THERMAL IMAGING IS USED ON EVERY INSPECTION
Infrared is a non-invasive method of seeing what might be going on behind your walls. The thermal imaging camera picks up very small differences in surface temperature, between -40C to 330C. It is not x-ray vision, cannot see through clothes and does not release radiation.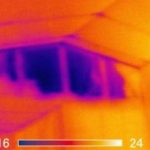 Missing Insulation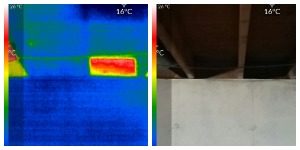 Rim Joists in Basement Need Insulation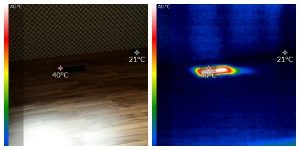 Forced Air Register
Thermal Images are useful in the detection of:
Water infiltration; Plumbing leaks, Roof and penetrations (roof leaks located wit

h recent rain fall within 24~48 hours)

Cold air infiltration around windows, doors and floors

Excessive moisture in building materials

Stud / Joist / Beam / Rafter placement and structure

Insulation gaps, insufficient and unevenness

Hot spots in; electrical drops, panels, breakers, switches and wire connections

Heating and cooling duct placement, insulation, air leaks

Pipe location

Testing in floor Heating

Limitations of Thermal Imaging
As with any type of inspection, it can't predict future conditions.  However, a roof that is experiencing moisture intrusion which has been detected through thermal imaging will very likely lead to serious structural issues, if left unaddressed.